I can't wait for the new season of Game of Thrones to come out. I was, of course, devastated when it was announced we won't see the new season until 2019. In the mean time, I entertain myself with important things like musings about couples and my favorite characters 🙂 I pass the time reading fanfiction and re-watching episodes and favorite scenes. I'm here to share some of my favorites with you! ^_^
Top 3 Female Leads
Brienne- I adore Brienne because of her sense of good character. She values integrity and loyalty. She marches to the beat of her own drum. Her dedication goes beyond the grave. She lives to protect and serve. I kind of think of her as slightly matronly, honestly, when it comes to her two wards. She would do anything for them, sacrifice all for them. They are her sole focus and her determination and resolve are admirable. Her strength is stellar!!! I must have watched her defeat of the Hound a million times, I tell you what!
Dany- I have loved Daenerys since the moment she learned to tame Khal Drogo. Such a clever young woman. She is compassionate and kind, a benevolent leader in all ways. I love her power plays. She single handedly managed to assemble such a well rounded council to help her on her way to the Throne. Watching her finally cross the sea to Westeros was exciting, and the payoff on the scene with the Loot Train was just SPECTACULAR. She's so brave and smart. Her speeches are motivating and I would have gladly accepted her as my Queen.
I could rewatch her scenes for hours, but some of my favorites are;
Killing All the Khals & Walking out of the Flames
Her escape on the back of Drogo
the sacking of Astapor and stealing the Unsullied
Arya- Liam Cunngingham has expressed doubts about young girls who regard Arya as a role model. He says she's a serial killer. That may be so, but has Arya killed anyone who didn't deserve it? Even when she killed all the Freys, she spared the women. I don't think it's fair to say she's a sociopath or whatever. She has a strong sense of justice and knows the cardinal rule; The North Remembers. She's more of a kick ass vigilante in my book. An assassin with a conscious. Her moments with the Hound were some of my favorite scenes. Arya is admirable because she's not afraid to stand alone. Be strong, defend herself, and claim vengeance for her family.
Honorable Mentions;
Margarey & Olenna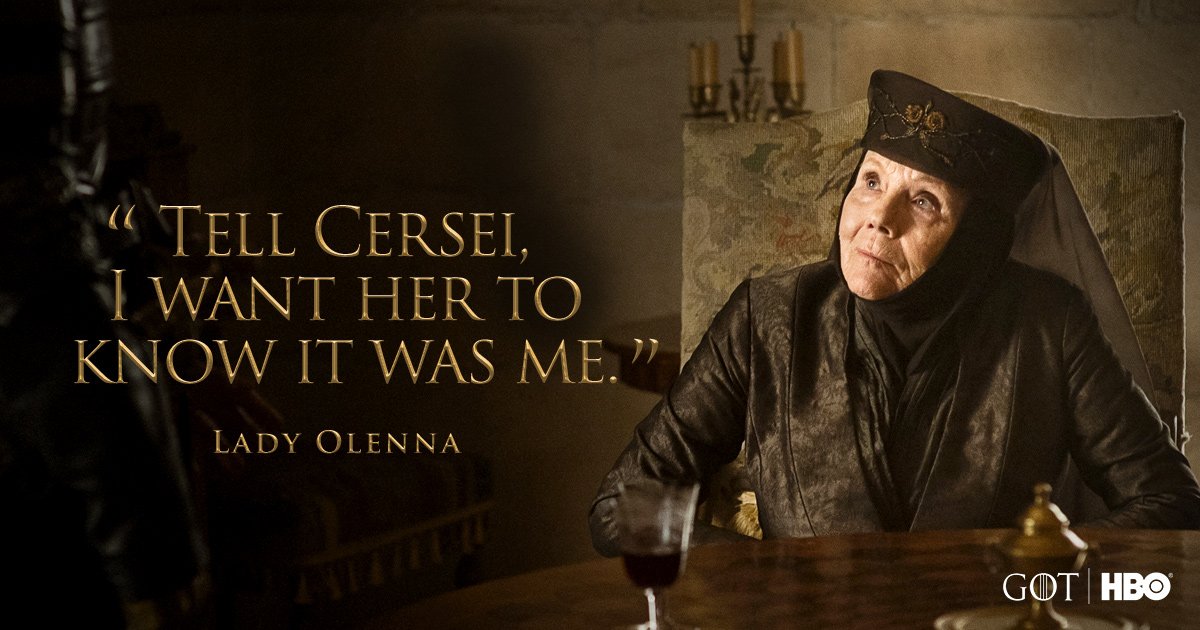 Because she is a bad ass. I also admired Margarey because she was good at manipulation as well. She seemed pretty open minded, too. Very clever.
Top 3 Male Leads
Littlefinger- A villain you love to hate. I had to admire his cunning. He was a master mind of manipulation. Such a useful skill, and it made him very titillating to watch. What would he do next? He is borderline creepy to me, but I also see his appeal at times. I'm both repelled and drawn in by the character. Good acting. One of my favorite scenes is when he kisses Sansa and the aftermath of that decision. Pushing Lysa out the moon door, and then Sansa covering for him. He turns into a dick of course *rolls eyes* Go figure.
Tormund- He has proven to be one of my favorite male leads! I like his loyalty to Jon and how his people love him and will follow him anywhere. Of course his infatuation with Brienne is making him all the more endearing. I was screaming at the TV when I thought the walkers had him, before Sandor got to him. I was on the edge of my friggin' seat. I don't want to lose this character.
Tyrion- I have enjoyed his wit. Waiting with baited breath for the ending of the honeycomb joke. I was a big fan of him during the time he went to act as the Hand on his father's behest. I loved him from the moment he slapped his crappy nephew around. He and Cersei are some of the only people to do what we wished we could do lol Brutalize that little bastard haha I thought his wholesome treatment of Sansa during their forced marriage spoke volumes about his character. He didn't deserve what happened with Shae. I have lost interest in his character now that he is on Dany's side, but I still admit I admire his strategic mind. Not to mention his friends, Bronn & Podrick.