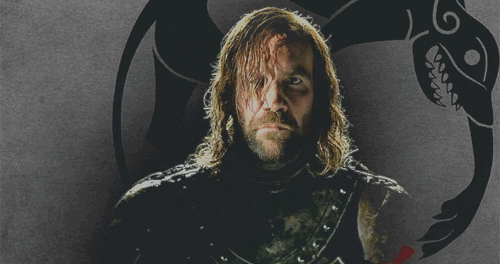 I do not know how to describe it, but I have this great longing for and identification that I share with the character Sandor Clegane, the Hound.
I live for fanfiction. I've been reading quite a lot of Games of Thrones fanfiction. My favorite pairing is SansaxSandor. I've been diversifying a little bit though lately and found some compelling dynamics.
The thing I admire about Sandor is he honestly is very complex. A troubled past, tough outside, vulnerable inside. I've read a few modern AU fics that I really identified with- In The Right Number, Sandor participates in a 12 step program and Elder Brother is his sponsor.
I love Sandor. I love both modern AU and canon versions of him.
The Right Number by Hollandoodle

When a wrong number leads to a chance meeting, drama ensues. Heavy on texting. Sansa works at a children's museum and Sandor is a knife maker. But hey, opposites attract, right?
He reminds me of my husband. Tough and used to standing up for other people. He is strong where others are weak. Sensible, knows what to do and how to protect. Good for emergencies, knowledgeable in all important ways a man should be.
Sandor has a rough side occasionally. Some people write more of his tougher Hound self, the self that died when Brienne bested him and Arya left him for dead. That was the Hound that Sansa knew, a man whose rage simmered beneath the surface. Good example:
Sandor thinks himself a changed man when he leaves the Quiet Isle. In the Vale, Sansa is trying to adapt to her new life and second marriage.

Circumstance has forced them both to adapt to their surroundings, but will they be able to reconcile each other with the images they've formed in their minds?
Then finally, the story I am following currently;
Jaime Lannister has defected from the Crown and left his sister in order to fulfill his pledge to join the war against the undead. But the journey will not be as simple as it sounds. Jaime finds that the road north is paved with choices – and he will not be traveling alone. This story picks up right where season 7 left off.