Ask and You Shall Receive:
Is Dany being his aunt going to freak Jon out?
Regrettably, it would seem so. At first he was very into kissing her, and then suddenly it was like he remembered who she was. The show is driving a wedge between these two lovers with Jon's true identity. Daenerys is being very unfair asking him to suppress his identity for her rule's sake.
Is Ghost Dead?!
Our plucky, silent friend is fine!!! I was so excited to see him, and then so incredibly disappointed when Jon just fucked off without him. It was so mean how he didn't even say goodbye. Just look at the poor fella.
Will Jaime and Brienne ever declare their love for each other?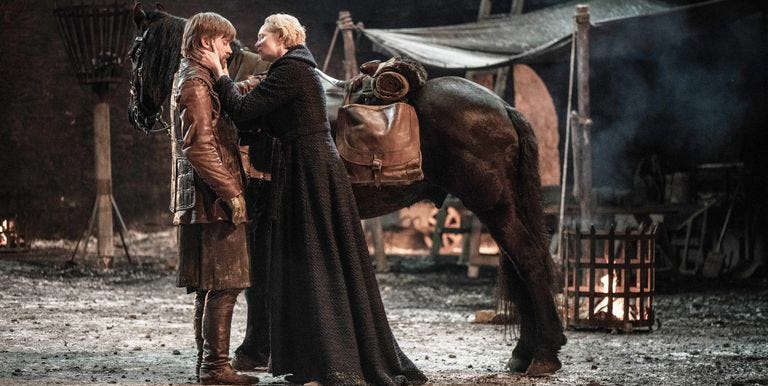 I don't know, what do you think?!?!? I was screaming at the TV in glee when this FINALLY happened. That's why I was right there with my home girl when she cried over him leaving her. My heart was broken for her, too. HOW COULD HE?!?!? *Feminine outrage* *mumbles under breath: virginity stealer*
To Be Determined:
What's going to happen to Jaime?
Is Dany going to go Mad Queen when she finds out she's not the rightful heir?
Will either of the dragons lay eggs before the final battle?
Are Jon and Dany going to get married?
If so, will they have a baby?
If so, will Dany survive the birth of the baby?
Will Sansa and Tyrion end up together?
Will Sansa somehow end up Queen as I hope?
Who will kill Cersei? Top contenders: Arya & Jaime
Is Cersei actually pregnant?
Will Sandor survive Cleganebowl?
Will Bronn finally get his castle?
What did Pod do with those whores? Will he get a happy ending?
Will we ever hear the end of the ass and honeycomb joke Tyrion shared?
Updated Post 8×4, The Last of the Starks
Will Jon confront Sansa when he learns she has broken her vow?
Will Tyrion turn Varys in for treason?
Will Tormund get a chance at some rebound action?